Performance at Nordic Cool - Kennedy Center, Washington DC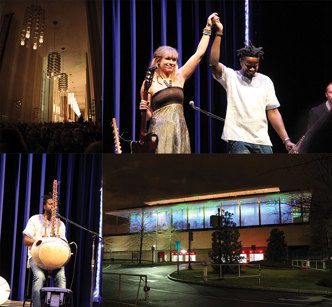 Yesterday we had a concert at the Millenium Stage at The John F. Kennedy Memorial Center for the Performing Arts and it was a great moment for us in our career. We were a part of the Nordic Cool Festival, a month-long international festival of theater, dance, music, visual arts, literature, design, cuisine, and film to highlight the diverse cultures of Denmark, Finland, Iceland, Norway, and Sweden as well as the territories of Greenland, the Faroe Islands, and Áland Islands.

Alicia Adams
 Vice President, International Programming
 Festival Curator says about the festival:

Along our journey to discover and ultimately create Nordic Cool 2013–and to answer, or at least attempt to answer, the question "What is Nordic?"–I experienced the art, culture, people, land, and values that are honored daily. Among them: nature, sustainability, innovation, design and technology, children's well-being and rights, gender equality, and diversity. What is Nordic?

We are happy and proud to represent the diversity of Nordic culture as it also looks today in a modern global society with links between people instead of borders.

We want to thank The Kennedy Center for selecting us, Statens Musikverk for recommending us and the Swedish Arts Council and Arts Grants Committee for supporting us. And most important – The audience who listen to our music!

From the bottom of our hearts – Thank you!