Multiple award-winning Senegalese/Swedish duo crossing borders in their music just like in their life together. Constantly on the move with musical and human meetings as their principal driving force. Maher was born to play kora and Sousou is one of very few female kora players in the world.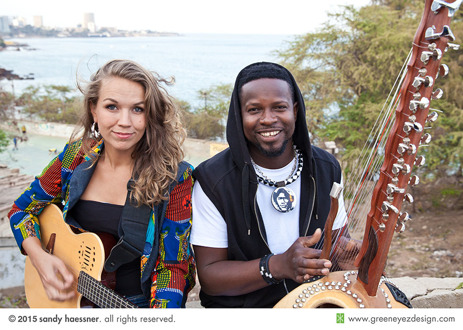 Sousou & Maher Cissoko, from the South of Sweden and the South of Senegal is one of Sweden's most appreciated world music groups. They have been touring in Canada, USA, Africa, Asia and various countries in Europe and performed at jazz, folk, world and city festivals, concert halls, clubs and schools.

Both Swedish television and the Swedish radio have done documentaries about Sousou & Maher Cissoko and when Youssou Ndour received the Polar Music Price they sang him to tears performing two of Ndour's songs together with the Swedish hip hop star Timbuktu.

Sousou and Maher both grew up in families of musicians and it was the interest and love for the West African kora (a harp lute) that brought them together. An important guideline for the troubadour culture which the kora is part of is the preservation of the musical heritage through its musicians' continuously finding new ways. In the interpretation of Sousou & Maher Cissoko it means magnificent kora playing and soulful singing combined with a rhythmic energy and influences from reggae, folk, soul and jazz.

As follows from the heritage of the Cissoko family of West African storytellers, the songs bring about an important message of coming together and creating links instead of boundaries between countries and people. This is further stressed by the duo singing in five different languages.

Sousou & Maher Cissoko's music is just as border crossing as the life they live together; constantly on the move and with the musical and human meetings as the principal driving force.

We are constantly working on finding and developing our expressions, creating our own songs, opening our hearts and finding our own voices. Times change and we are living in a global world where everything is connected. We want to continue to give comfort, share hope and love around the world!"/Sousou & Maher Cissoko
SKAP (Swedish Society of Songwriters) Prize 2015
Best Folk Album of The Year 2015, Swedish Manifest Award
Winner in the International Songwriting Competition 2014 (Wula from Africa Moo Baalu)
Album of The Year Nominee 2012 (Stockholm-Dakar) Swedish Folk & World music Awards
Band of The Year Nominee, 2011, 2013, 2015 Swedish Folk & World music Awards
Newcomer of The Year Award 2010 Swedish Folk & World music Awards
Grants received from: Swedish Arts Council, The Swedish Arts Grants Committee, Swedish Performing Arts Agency, City of Stockholm Cultural Prize and STIM (Swedish Performing Rights Society).
Festival d'ètè de Quebec, Nuits D'Afrique, Vancouver Folk Festival, TD Sunfest, Polar Music Price, Stockholm City Concert Hall, Bali Spirit Festival, Way Out West, Malmöfestivalen, Umeå Jazz Festival, Urkult, Sauti Za Busara Festival, Kennedy Center For Performing Arts, Eurokids Festival, Festival Sur Le Niger, Mali, Gwanju World Music Festival, Selam Festival Ethiopia among others.
Sousou & Maher performs as duo at intimate venues or for a dancing audience with a full 5p band with guitar, kora, double bass/electric bass and percussion.